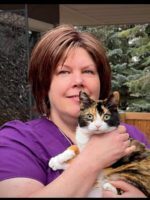 Cheryl graduated from WCVM in 1997,  and is a member of the American Association of Feline Practitioners, Canadian Veterinary Dermatology, and is currently the president of the Edmonton Association of Small Animal Veterinarians.
An avid gardener, Cheryl enjoys spending time with her three cats (Bussy, Twiggy, and Moody), hamster (Humphrey), and her many goldfish. She is an active member of the Edmonton Horticulture Society and several conservation groups including Edmonton Ducks Unlimited Ladies Committee.
In her free time, Cheryl likes to travel, hike, snorkel, photograph and tour gardens and parks around the world.