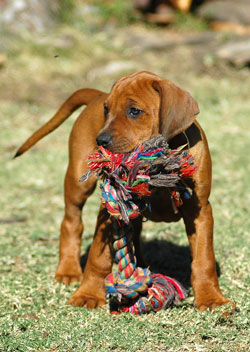 We do not provide formal obedience classes at Millwoods East Veterinary Clinic. However during the puppy vaccination visits we do provide training information. At any exam or office visit we are always ready to give you assistance in dealing with any behavior issues you may have.
We strongly recommend puppy training during the early impressionable months of puppy life and believe puppy training is essential to a long happy relationship with your dog. Puppy kindergarden lessons usually begin at 4 months of age. Regular training classes begin at 6 months of age.
Always remember when you are training your puppy that you are not reinforcing behaviors that you will find are not acceptable later.
Preventing, diagnosing and controlling behavior problems at a young age will result in an obedient pet for many years to come. We have had the unfortunate experience of euthanizing adult pets with uncontrollable behavior problems that could have been prevented with appropriate training of both dog and owner at a younger age.
Remember, the effort you put into your puppy in the early months will pay off tremendously in the future.
Follow this link for helpful advice on choosing a dog trainer.